6 Proven Marketing Tips for Interior Remodelers
Marketing for remodeling companies is essential for reaching local audiences who need services. Additionally, a good strategy helps your company stand out from local competitors.
Crafting the perfect strategy can be challenging, especially when you don't have marketing professionals on your team. To make things easier, we've outlined six ways to enhance marketing for interior remodelers.
1. Website Design & Optimization
Websites are essentially your online storefront, so not having one can spell out a massive downfall for your company! In fact, 56% of shoppers say they won't trust a business if it doesn't have a website. Each website should also be appropriately designed with easy-to-read text and a mobile-friendly format.
You also can't attract customers without SEO! SEO (or search engine optimization) refers to your company's visibility ranking after organic searches are performed. You can get your website to the top of the search results by researching which keywords your target audience uses and inserting these phrases into your website content.
Attracting leads is just one part of an effective website strategy: make sure you have other things to offer! A website is an excellent place to showcase your completed projects and advertise the building materials that you carry. Your website should also include your company's up-to-date contact information and business hours.
2. Content Marketing
Consumers value content marketing because it helps them make informed purchase decisions. It also portrays your brand as an expert in the interior remodeling industry, resulting in more brand trust. Content marketing can include written blogs, videos, or even client testimonials.
You can also offer premium content like checklists, eBooks, or interactive quizzes. Premium content is usually exchanged for email addresses: the prospect fills out a form on your website to have the content forwarded to their mailbox. With these email addresses, you can continue to nurture and grow relationships with information about upcoming service offerings or exclusive discounts.
3. Social Media
At least 82% of American consumers use social media, including a good portion of your target audience. Most people check social media once a day, meaning social media ads generate great exposure for your brand. You can attract customers to your page using relevant hashtags based on your company's location and service offerings.
Once customers have found your page, keep them interested with relevant content. Eye-catching videos and live streams that feature your crew at work are great for engagement! You can also post before and after photos of your remodels, FAQ posts, or general remodeling tips.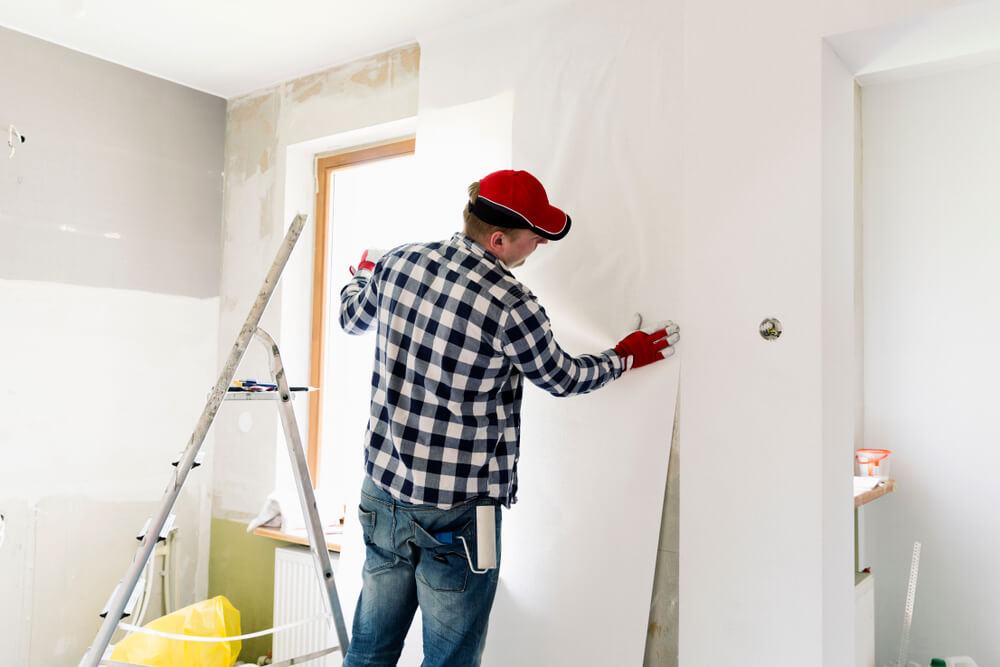 4. Event Marketing
The success of interior remodeling companies often depends on their relevance in their local communities. That's why live events can be so beneficial, whether you host one or sponsor an organization in your area. Companies that support local charities or other initiatives often gain more respect and trust from their target audience.
You can also partner with brands that offer similar services as long as they're not direct competitors. Live events are perfect for connecting with your potential customers face-to-face and beginning meaningful relationships. You can also hand out business cards or branded merchandise.
5. Radio Ads
Because of their versatility and extended reach, radio ads can reach a broad audience in your local area. Customers can listen to the radio anywhere: in the car, at work, or even home after a long day. An engaging ad can catch their attention even if a customer is just using the radio as background noise.
Studies have also shown that 63% of Americans listen to the radio daily. Even hearing your ad once every 24 hours increases brand recognition with your target audience.
6. Pay-Per-Click Ads
Even for a local business, achieving the marketing results you want is almost impossible without an online presence. This takes a lot of time to complete, especially with many rivals who have been in business for years. Pay-per-click (PPC) is the way to go if you need quick results.
For a set fee, you can get your company's website or social media pages at the front page of a search amongst the top results. If someone types "interior remodeling," your business will automatically appear if the customer is local. The average PPC campaign is also a solid investment, offering up to a 200% ROI.
Get Personalized Interior Remodeling Advertising Plans from Mid-West Family
Now that you know which advertising strategies will pay off, it's time to set them into motion! Mid-West Family Southwest Michigan offers multi-channel marketing services tailored to your remodeling company's current and future goals. Contact us for a free analysis of your existing campaigns, or let us help you build one from scratch.